Our Legal Services
You can rely on Arundell Murray & Ryan to provide you with sound legal advice and excellent representation.
Contact us to arrange a consultation with one of our experienced and highly qualified legal professionals.

Our People
Jim Ryan | BA, LL.B, OAM
Sole Practitioner
Jim has been a Principal Solicitor at Arundell, Murray and Ryan since joining the firm in 1972.
He has a particular interest and wealth of experience in Criminal Law, however, also has extensive experience in Family Law, Conveyancing, Wills and Estate matters.
Jim was an active member of the Law Institute of Victoria Council for 11 years and the inaugural Chairman of the Criminal Law Section.
Residing in Colac for over 40 years, Jim has a passion for social justice and assisting members of the local and surrounding community. He has had lengthy involvement with the Colac District Cricket Association and the Colac Turf Club.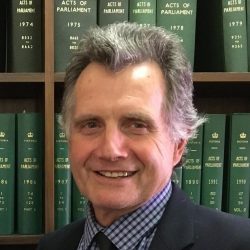 Tony Prytz | BA, LL.B
Solicitor
Tony came to the law late in his professional career and brings a wealth of life experience to his practise of the law.
After completing secondary school he worked in various roles including taxi truck operator and caravan haulage and he worked on several Aboriginal communities in remote parts of Australia.
Initially trained as a teacher he soon turned his attention to journalism and he stayed in that field for more than 30 years.
He first came to Colac in 1983. He has worked at The Colac Herald including a time as editor, the Geelong Advertiser, The Canberra Times and The Adelaide News ending his career spending five years at The Age as a sub-editor.
Tony joined Arundell Murray and Ryan in 2015 and practices in Criminal Law, Commercial Leases, Conveyancing, Family Law, Wills, Estates and Probate matters.
In his spare time Tony is a keen racing cyclist and regularly competes in Colac and around the south-west.
With wife Sue he is a father of two and grandfather of two.